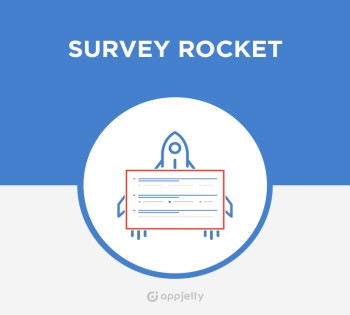 Create custom survey templates, online polls & more to trigger them using automation to get real-time feedback from your customers using Survey Rocket a survey builder. Moreover, use the CRM data using inward and outward piping mechanism.


Utilize Your CRM Data to Automate Surveys and Emails Campaigns


Automation is the key to your marketing practices. Whether it is for day-to-day email marketing campaigns or something more specific; such as surveys. In order to measure and upgrade your service standards or for product enhancements, there is no better mechanism than surveys. However, automated surveys trigger the communication at the right point, and when your customer is in the right frame of mind.
Survey Rocket is a powerful survey plugin to trigger such marketing campaigns using automation. It is an independent survey plugin as it does not require any third party integration to work with sugar system.
Survey Rocket is equipped with data piping, branched surveys, scheduling & automation and more. It is a robust survey builder not only to manage surveys, but how to increase survey responses and most importantly - create and trigger survey campaigns using workflows.
---
Features and Benefits
Create Different Types of Surveys
Our sugarcrm survey plugin enables you to create various types of surveys ranging from types of complexity of the survey, MCQ questionnaire to a branched survey, and more. Our interactive and easy-to-use UI makes it extremely easy to create and trigger various types of surveys.
View All Features
Readymade GDPR based Survey Forms
Use readymade survey forms based on GDPR policy for Contacts, Leads and Targets modules. The survey form fields are directly mapped to Sugar Modules. So you can get your customers' consent through survey responses and update records based on their responses.
View All Features
Multiple Question Types
With a large number of distinct question types, Survey Rocket makes it easy to create great looking surveys to better understand your prospects.
View All Features
Enable Score Calculation
To come up with tangible scores after your customers respond, you would need a tool that enables you to score responses. The scoring mechanism helps you to designate specific actions and segment the customers based on their responses to the campaigns or on-site activity. You can obtain the final and the average score for the respondents individually for each question in the survey.
View All Features
DETAILS
Data & Analytics
Marketing
Sales
Service & Support
Version Compatibility
Vendor
Resources
Please where we're going to have PDF and what not